3 Things You Need to Consider in Respite Care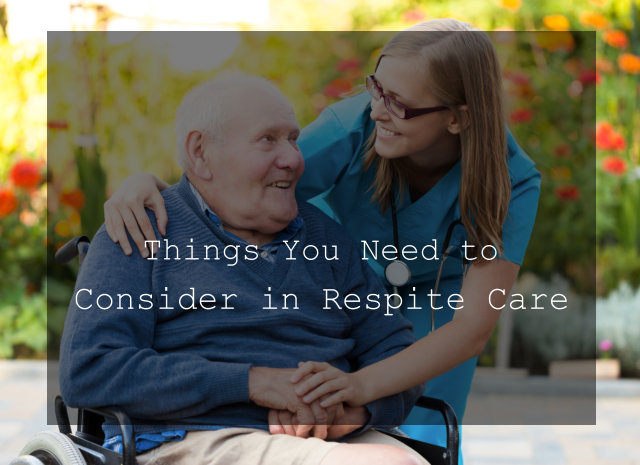 Sometimes even though you really want to take care of your sick loved ones by yourselves, you really need to have a break. Caregiving can really be a demanding job and a stressful one too. Thus, it is necessary for any family caregiver to take a rest, revive their energy and temporarily isolate themselves from their patient.
Respite care offers a way for any caregivers to take a rest, go on a short vacation and recover from all the stress related to their job. Basically, in respite care has two main goals: having a shared responsibility in caregiving and getting support for yourself. At Better Living Home Care Agency, a reliable partner in senior home care in Simpson Park Road Weir Mississippi, we give utmost importance to respite care because we appreciate caregivers who truly devote their time to take care of the elderly.
Moreover, if you are a family caregiver and you think that you need a little time alone to recover from all the caregiving stress that you are feeling, let these three things help you decide whether you should hire a temporary caregiver or not.
What are your patient's needs?
As family caregivers, this must be on top of our list. Before we decide to hire caregivers from agencies like Better Living Home Care Agency, the only trusted provider of senior home care in Simpson Park Road Weir Mississippi, we have to assess the needs of our elderly loved ones.
You might ask these questions:
How often do they need a caregiver?
What should be the caregiver's role to the patient?
How should the temporary caregiver approach the patient?
How often should the medication be given and the what are the specific meals for the patient
What are the tasks that the caregivers have to do? Be specific
From these questions, assess whether you can temporarily or permanently shoulder this responsibility to your trusted caregiver.
Do you think you can still be efficient in taking care of your loved ones when you are close to breaking down?
Usually, this is the breaking point when you decide to hire a caregiver. When you cannot handle anymore seeing how your loved ones is struggling and you are becoming too emotional with it already, perhaps it is best that you resort to respite care.
Would you be comfortable hiring a caregiver to look after your loved ones?
This is an important factor to consider. When you decide to hire a caregiver, make sure that you find someone that can be trusted. Client and caregiver relationship should by symbiotic. They have to understand each other so they can communicate better when it comes to the need to the patient. If you can find a reliable and trusted caregiving agency, then there is nothing to worry about.
Have you asked yourselves this questions yet? If you answers are all "yes", definitely you need to hire a good respite caregiver today! If you are looking for one, you can visit us at Better Living Home Care Agency, the ultimate source for respite care and senior home care in Simpson Park Road Weir Mississippi. You can also visit our website for more details www.betterlhc.com