Common Conditions that Can Come with Dementia-Like Symptoms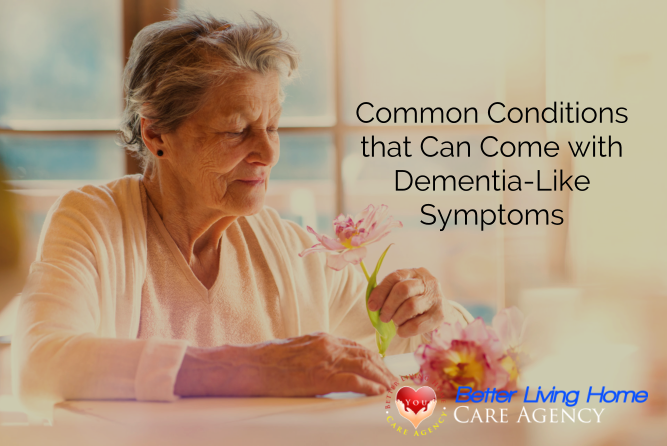 Alzheimer's disease and other forms of dementia are quite common in the aging population. This causes family members to worry about even small changes that they notice in their senior loved ones. However, it is imperative to stay calm. Aging can normally come with slight memory changes and even if your senior loved one's symptoms can indicate a dementia, it is imperative to know about other health conditions that can come with dementia-like symptoms. Many of these conditions aren't serious; however, they can usually be misdiagnosed or overlooked. Our experts in senior home care in Simpson Park Road Weir Mississippi wish to help you know when it is dementia and when it is not. Below are the common factors that can come with side effects that mimic dementia.
Urinary Tract Infection
Seniors who experience a urinary tract infection (UTI) can experience behavioral and memory issues that can be confused with dementia. This infection is usually overlooked in seniors as this population rarely has the typical symptoms of UTI like pain or fever. Rather, they experience memory issues, dizziness, delirium, confusion, hallucinations and agitation. But this kind of infection can easily be treated with antibiotics, plenty of liquids and lots of rest.
Sleep Apnea
This health condition involves breathing interruptions throughout the night which decreases the oxygen levels of the brain and prevents deep sleep. Such interruptions can take place at least ten times every hour and can lead to symptoms which mimic dementia. For a senior with dementia, sleep apnea can make the symptoms worse.
Thyroid Disease
A thyroid disease can cause dementia-like symptoms. Hyperthyroidism is addressed by removing the thyroid surgically or destroying it using radioactive iodine. While hormone replacement is often the treatment option for hyperthyroidism, it may not be effective at treating the cognitive problems.
Vitamin B Deficiency
Although regular diet often provides enough vitamin B-12, a number of seniors don't have the ability to absorb this vitamin because of a condition called pernicious anemia. This condition can lead to nerve damage like tingling or numbness in feet and hands, personality changes, confusion, forgetfulness, depression and irritability. In case your aging loved one develops such symptoms, consult this doctor for a blood and physical tests. For most people, the problem can be resolved with B-12 supplementation.
Subdural Hematomas
Head traumas cause these blood clots which can come with symptoms which mimic Alzheimer's if the clots are between the surface of the brain and the thick membranes which serve as brain cover. Seniors can develop such kinds of hematomas following a minor head injury. To restore cognitive function, the clot must be removed.
Depression
Among aging people, depression and feelings of isolation are quite common. And such mental health problems can impact the memory, mood, behavior and reasoning of an older adult. In case you feel that your elderly loved one may be having a mental health condition like depression, talk to his physician right away.
Medication Side Effects
A lot of seniors are prescribed with medicines to help them in managing their chronic conditions. These prescription medicines can have side effects which mimic dementia. Medical experts say that as medicines are metabolized and eliminated from the body as we age, they can build up and result in side effects such as memory glitches.
What you can do is list down all the medicines that your senior loved one takes including supplements and bring the list to your loved one's doctor. Also, inform the physician in case your loved one develops symptoms after taking a medicine so that he can provide an alternative medicine.
There are a lot of conditions similar to the symptoms of dementia, so ensure that you consult with a doctor so your loved one gets proper diagnosis. Better Living Home Care Agency has senior care experts who know the potential emerging symptoms and can alert your senior loved one's doctor when necessary. Call us today at 662-582-0444 to know more about our home care services.