How to Keep Our Elderlies Happy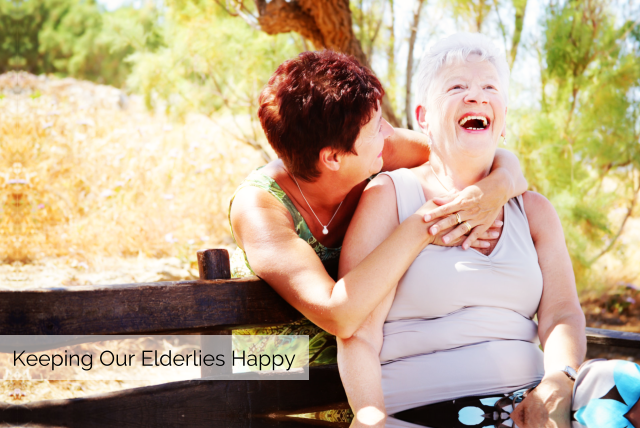 Due to the decline in their abilities to perform activities that they once found very easy, it cannot be helped that older people feel sad. As they retire and stay at home while their grandkids and children go to school and work, they will most likely feel isolated. In 2013, Los Angeles Daily News reported that loneliness decreases one's lifespan and contributes in further declines in physical abilities. This is not something we'd want our older loved ones to experience that is why we at Better Living Home Care Agency, a senior home care in Simpson Park Road Weir Mississippi, have prepared some tips on how to keep your elderlies happy.
Visit them regularly.
It is only the joy of grandparents to be remembered and reminded that they are still valued. As our life activities remain fast-pacing, theirs are declining. In the strength that they now lack, their capacities are limited so they have more time to sit down and reflect which allow the entry of negative thoughts. Paying them a visit will surely uplift them, giving them a sense of belongingness despite the gap in your lifestyles.
Listen to their stories.
Elderlies love telling stories. This reminds them of the youth they well lived. They want to share some, if not all, of the experiences they've had that they think would help you as go on your life's journey. Yes, it can get boring on several occasions but it won't hurt to pay them a little attention. Listen to them go on and on about how they met your granddad or the mishaps they have encountered. Not only will it make them happy, you will also receive some insights of how it was like living in their time.
Update them with family milestones.
Elderlies also fear of missing out. It is not only a phenomenon that happens to younger individuals. They too want to know what goes around in the family. It will surely make them happier if you update them with the latest news or milestones. Nothing is more uplifting than knowing that your grandchild won his/her first spelling bee contest or that your niece got into an Ivy League school. Perhaps, it will give them some pride that they would also want to celebrate for.
Pamper them once in a while.
Take your elderly loved ones out on a date. You may get your hair and nails done with your female elderlies or bring your male elderlies to their favorite team's football match. You can also take them sightseeing or perhaps prepare them a healthy breakfast. It doesn't have to be grand. A little gesture of love can do as long as it makes them feel special.
Express your love to them verbally.
A simple 'I love you' goes a long way. Not everyone is expressive of their feelings. However, in an old age, your loved ones will appreciate it if you verbally tell them how much you care about them. In your busy schedule, try slipping a few affectionate words here and there. This will give your elderlies a reassurance in addition to the efforts you have exerted substantially.
It is important to show our elderly loved ones that although their youth have passed, the relationship you share with them remains the same. This is a way of telling them how grateful you are for the affection and sacrifices they have made for you throughout their life. In the stage where they now depend on you, show them how you have grown to be reliable as you were raised. Nothing is more rewarding to a parent than seeing their children be independent adults.
We value the bond elderlies have with their families that is why here at Better Living Home Care Agency, you can enjoy the presence of your grandparents or parents in your home all the time for as long as you want. With our well-trained and professional personal care providers, your loved ones can remain happy and assisted without the troubles of separation from you. If you are interested in our services, give us a call today at 662-582-0444 or visit us at www.betterlhc.com/.