In case you don't know: Private Duty Nursing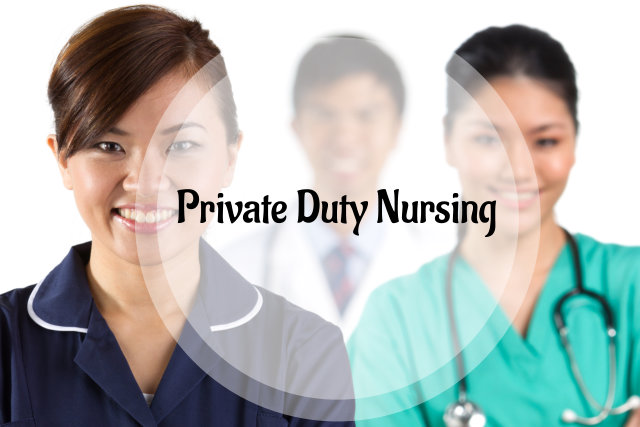 Private Duty Nursing may not be familiar to most people, especially those who do not know about healthcare services. Appreciating this service can be made easier by learning more about it. Here are some facts about private duty nursing that you ought to know:
Private Duty Nursing is delivered by RNs and LPNs.
The only professionals who can carry out the task of delivering high quality private duty nursing services are Registered Nurses (RNs) or Licensed Practical Nurses (LPNs). They can only do the honor of delivering the service upon the order of a physician. They work according to the desired environment of the client/patient. It's either in a client's own home, healthcare facility or a hospital.
Who can avail and pay for this service?
Basically, anyone can obtain these services through private pay or insurance, Medicaid, Medicare and managed care organizations. If you have access to Medicaid, a physician will write a letter of medical justification. Then, your chosen home health agency/company or social services office will write an assessment on whether or not you need private duty nursing. Also, your home health agency will authorize the number of hours the private nurse can work and care for you.
Who needs private duty nursing the most?
There is no favouritism when it comes to private duty nursing. Nurses always care for the ill and for those who need medical care, no matter what sickness the patient has. However, most patients who need private duty nursing are pediatric patients, Cerebral Palsy, Traumatic Brain Injuries (TBI) or those patients who need the help of medical equipment in order to survive. Example of this would be patients who need a ventilator, tracheostomy care, gastronomy tube and many others. Although nurses can also assist you in your nonmedical needs, it is most preferable if you hire nursing assistants, homemakers, home health aides, sitters and other healthcare professionals.
Interested in private duty nursing? Don't hesitate to reach out to us here at Better Living Home Care. We provide private duty nursing for Medicaid clients who need continuous nursing care, unlike those nurses who work part-time or on an intermittent basis. We provide private duty nursing for pharmaceuticals as well. We are located at 1295 Simpson Park Road Weir, Mississippi 39772. We cover sixteen and more service areas. Choose us today the senior home care in Simpson Park Road Weir Mississippi! Call us at 662-582-0444 for more information.