What You Need To Know About Geriatric Depression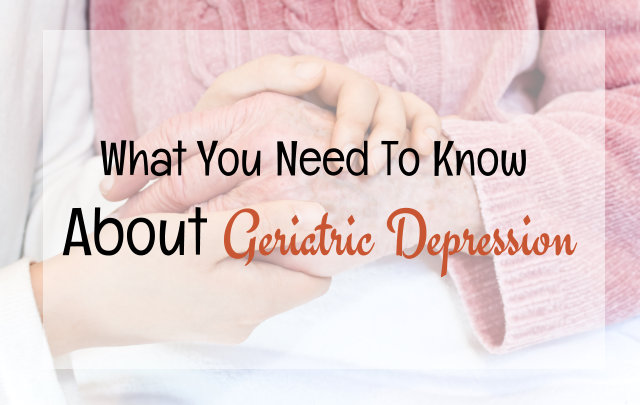 Many people still think that depression is just a state of mind. Not so. In fact, a lot of people from all ages have been diagnosed with clinical depression which they or their loved ones thought to be just an episode. Some of them reacted too late that the depression had already caused irreversible damage and even fatality.
Depression is even true with senior adults. Just when we think that they have been through the toughest storms in life and that nothing can possibly turn them blue, we are wrong. In layman's term, Geriatric Depression is simply the depression experienced by adults in their seniors years. It is the prolonged feeling of melancholy that is experienced by nearly five million elderlies in the United States alone.
Geriatric depression may be hard to detect since they do not often meet the criteria of major depression but here are a few of the possible causes of this mental and emotional disorder in the elderlies:
being away from families or loved ones;
living without a spouse (divorced or widowed);
being at the end of their days;
adapting with retirement;
mobility problems.
Though these instances alone may not surely lead to divorce but if left on their own, it can be very easy for adults to fall victim to this disease. For family members, the symptoms to watch out would be:
changes in temperament;
gloominess;
crying episodes;
social withdrawal;
weakness;
lethargy;
sudden change in appetite;
degrading health;
suicidal thoughts.
People who show these symptoms do not necessarily have depression. It could be that the senior is just going through a temporary season of being blue. But these are warning signs that should not be ignored. Because spotting symptoms and early detection is key to extending help and providing solution to their problem.
As family members, it is our duty to ensure that our senior loved ones are healthy not just physically but emotionally and mentally as well. So we have to make sure that we should not only be concerned of their nutrition, the prescriptions, or their physical activities. We have to make sure that they do not find any reason to feel down or to feel lonely.
Opting for home care is actually a great choice to prevent our senior loved ones from developing Geriatric Depression. Home care offers a lot of advantages that can help battle depression like the following:
Physical movement. With the support of a care provider, our senior loved ones can now move around and go about the house or outside more than when they were on their own. The care provider can help assess house safety and can provide physical support for our loved ones as they attempt to accomplish personal tasks or light chores, ensuring that they are safe and sound.
Feeling of independence. Since they can now accomplish more tasks with the help of caregiver, they can start to feel good again about themselves, knowing that they can still be useful and productive around the house.
More frequent family visits. With a caregiver who can chaperone them, they can now go out more for personal appointments or to visit the house of family members, which can be impossible for them to do on their own.
Getting more nutritious meals. With somebody who can plan, purchase, and prepare nutritious food, they can better enjoy mealtime especially with a companion around.
Geriatric Depression is a real struggle that our senior loved ones face. But they need not get there nor do they have to battle with it alone. Let us extend the help that we can give through a senior home care in Simpson Park Road Weir Mississippi that will provide for them not just excellent services but great companionship as well. If you are looking for the perfect company, call Better Living Home Care Agency today at 662-582-0444 today.